2010 Recognition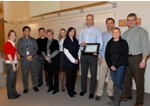 Mobility Clinic
There are many strong members of this team that deserve to be recognized for all the individual contributions they make to CFFM. This team exemplifies leadership, has taken on small to large tasks to get this clinic running smoothly. They are all team players working towards patient care & providing a level of service excellence in a population that is often ignored.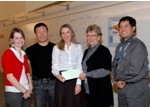 Colleen McMillan
Colleen is an exemplary team lead for the mental health team through many transitions. She has a gentle and friendly nature that contributes to cohesiveness of entire team, and provides high level of patient care for a vulnerable population.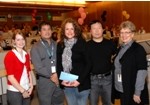 Tara Otterbein
Tara goes out of her way to help those around her, and has been essential in developing confidence in our new nurses and students. She has commitment to both education and patient care. Her caring and compassionate nature makes her an invaluable member of the nursing team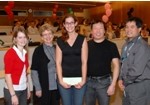 Nancy Hayward
Nancy is very dedicated, hard working and diligent. She gives 110% and is always eager to help co-workers. Her willingness to help and take on extra tasks contributes to a positive work environment and excellent patient care.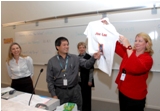 Dr. Joe Lee
And a special recognition was made to our leader for his vision in creating the Centre for Family Medicine. It has been five years since the Centre for Family Medicine FHT opened its doors, and it has been a remarkable five years. We recognize we would not be where we are today without the dedication, hard work and leadership from Dr. Lee.