2009 Recognition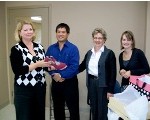 Marg Alfieri
Marg is our dietitian at the Centre, and goes above and beyond in team building, patient care and education. She goes the extra mile to ensure her team members are appreciated and to build good work relationships with team members. She is a consistent force of energy and innovation to our Centre.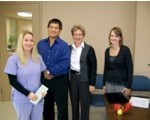 Brooke Anderson
Brooke goes above and beyond in patient care, has taken on many new roles for the team. Her kindness and compassionate with patients as well as her willingness to help out with any tasks is noticed as a very positive contribution to the team.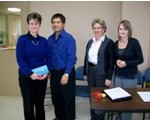 Wendy Batte
Wendy is our lead receptionist, and is an asset in team building and patient care. Her always patient attitude makes her approachable, and brings our team members to a professional level through her training and attitude.
Tracy Sibbick
Tracy has shown dedication to our patients in our Wellesley office. There have been numerous patients who have been treated with compassion, concern and follow-up. Tracy goes out of her way to accommodate anyone coming to Wellesley, be it patients, staff, or outside visitors.
Pat McLeod

Due to her position as the Executive Director, Pat cannot be formally recognized through this process. However, many team members wanted to recognize the countless time and devotion she puts into the Centre to ensure everything runs smoothly. Pat is the go-to person for everyone here, and we want to recognize and appreciate the hard work, open door, problem solving skills, direction and leadership that she provides.