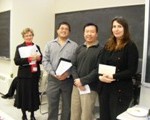 Adina Mesesan
Adina is recognized for her behind-the-scene work she does to foster our team. She is devoted and hard-working with the rostering of all patients at the Centre, or any other task requested.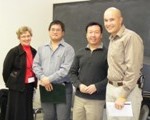 Jeff Nagge
Jeff has provided our clinic with many new innovations, ones pecifically being the Point-of-Care Anticoagulation Clinic which provides a great service to our patients. He also takes on co-op students and other learners to bring additional teaching to the Centre.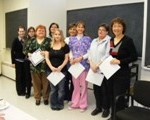 Memory Clinic Team
This includes Dr. Linda Lee, Nurses Shelley Schmalz, Marsha Koehler, Brooke Anderson, support staff Mary Lou Scheifele and Roxanne Bartlett and social worker Sharon Dillon-Martin
Wellesley OB Clinic
This includes Marg Alfieri, Dr. Brian Finn and Marsha Koehler. This is to recognize the service they provide to the residency program at the Centre, a much needed component of the program, and a wonderful learning opportunity for residents.

Refugee Health Clinic Team
This includes Dr. Neil Arya, Shirley Rew, and Nurses Barb Ruby and Wende Bedirian. This team provides a great service to new immigrants to Canada.
Travel Clinic
This includes Dr.Heather Dixon, Nurses Barb Strgar, Tara Otterbien, and support staff Lee-Anne Hoch. We also would like to acknowledge all of the work put in by Jennifer Farah in getting this clinic up and running. The travel clinic provides patients with pre-travel counseling along with immunization and medications needed to stay healthy while travelling abroad.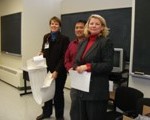 Tiny Tots
This team includes Dawn Spence and Marg Alfieri. This clinic is helping patients optimize growth and development through healthy nutrition.