Internal Recognition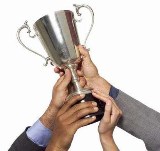 We have many dedicated team members committed to our values and principles.

At the Centre for Family Medicine, we want to recognize and acknowledge our team members for all they do to make this place a Centre of Excellence.
Annually, we recognize individuals and teams that have made an impact at our Centre in the areas of team building, patient care, research, education and/or innovation.
Click on the year to view more!
Amy Teixiera, Kevin Kennedy, Amy Pfaff, and Wende Bedirian
Jacqueline Montgomery, Barbara Strgar and Kara DeJong
Mobility Clinic Team, Colleen McMillan, Tara Otterbein, Nancy Hayward

Marg Alfieri, Brooke Anderson, Wendy Batte, Tracy Sibbick, Pat McLeod
Wende Bedirian, Sylvia Decker, Adina Mesesan, Jeff Nagge
Memory Clinic Team, Travel Clinic Team, Refugee Health Clinic Team, Tiny Tots, Wellesley OB Clinic Team