KW4 Health Link
The Centre for Family Medicine Family Health Team is excited to lead the KW4 Health Link.
What is the KW4 Health Link?
The focus of the KW4 Health Link is the group of people who are high users of our local health care resources such emergency rooms, hospitals, and primary care. The objective is to provide better care for these high users more efficiently and for less cost. By stratifying patients according to risk of poor outcomes and tailoring interventions accordingly, the right patients will be receive the right amount of care in a pro-active, rather than reactive way. The proposal leverages many award-winning local KW4innovations in primary care and expands these more broadly across the entire KW4community; in other words, the KW4 Health Link is about "levelling the playing field" in promoting equity and fairness for all citizens, particularly those who are high users and most vulnerable. It also builds capacity for care for an aging population and provides a platform for proactive care by utilizing an established training program and existing KW4-based provincial leadership.
The KW4 Health Link proposal utilizes a multi-modal approach to identifying, assessing, caring, managing, and connecting high users of the local health care system with health care providers and community agencies. The four major components of the proposal are:
Identification of patients with memory issues and spinal cord injury issues by primary care providers for further assessment, support, and systems navigation
Identification of patients with frailty by systematically identifying those with underlying chronic complex chronic conditions that contribute to frailty (such as heart failure, risk of falls, COPD, and dementia) and age-related frailty states; these seniors are at high risk of medical adverse events that result in ER visits and hospitalization. By identifying unrecognized underlying conditions and better management in primary care before medical crises occur, and improving the frailty state itself, this health system redesign will provide evidence-informed strategies to reduce ER visits, hospitalization, and long-term care institutionalization
 Providing support and implementation of e-Health strategies to enable the family physicians and other primary care providers in KW4 with tools for an integrated electronic health records system. This system will link primary care offices with hospitals, laboratories, imaging facilities, and other health care agencies and institutions
Identification of high users of ER and an iterative strategy to provide connected support among hospitals, CCAC, and primary care providers. Support to these individuals will be provided by our in-home Community Ward team.
Community Ward
The Community Ward is an inter-professional team that does house calls to assist family physicians and others care for very complex, high users of the health care system in the Kitchener-Waterloo-Wellesley-Wilmot-Woolwich (KW4) area.  It started seeing patients in January.  The Community Ward is accepting referrals from all primary care providers of the KW4 Health Link. It's appropriate for patients who:
Have complex chronic conditions
Are very frail or have frequent falls
Are living with mental health or psychosocial challenges
Are not managing well, or are not getting the care and support they need
Are visiting the ER or being hospitalized frequently
Cannot get to regular office appointments for whatever reason
Coordinated Care Plans will be developed for all patients seen by the team.
Click here for the KW4 Community Ward Referral Form ›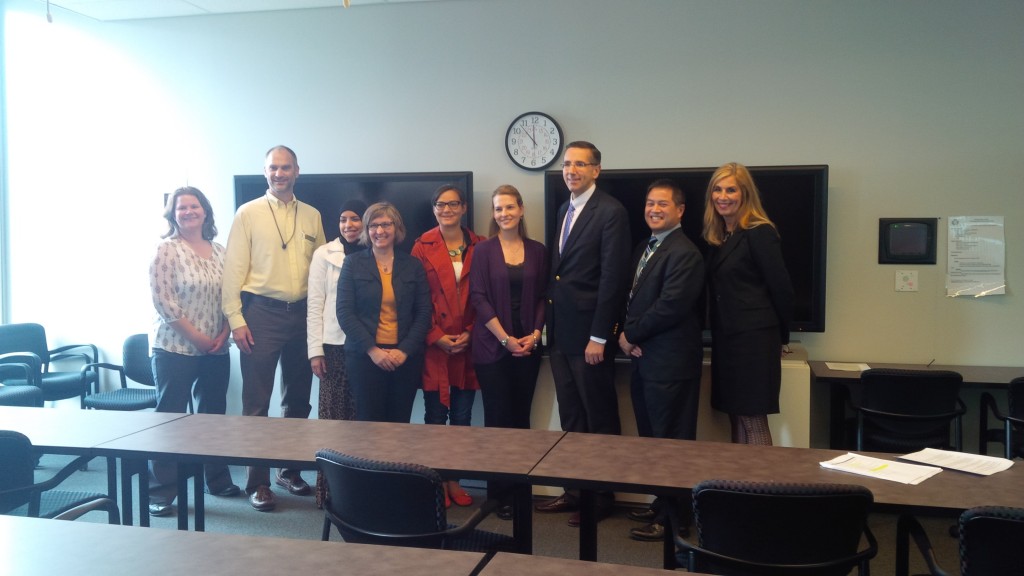 Collaborating Organizations
Thank you to all of the support we have received from the Waterloo Region Community. We have many partners who have provided formal and informal support, including:
Grand River Hospital
St. Mary's General Hospital
New Vision Family Health Team
Kitchener Downtown Community Health Centre
Woolwich Community Health Centre
Waterloo Wellington Community Care Access Centre
Schlegel-University of Waterloo Research Institute for Aging
The Village of Winston Park
Andrew Street Family Health Organization
McMaster University KW Family Medicine Residency Program
Ontario Neuro-Trauma Foundation
University of Waterloo School of Pharmacy
Canadian Mental Health Association of Waterloo Wellington Dufferin
Community Support Connections (Meals on Wheels and More)
Waterloo Wellington Behavioural Supports Ontario Program (St. Joseph's Health Centre Guelph)
Sunnyside Seniors' Services, Region of Waterloo
134 family physicians and 3 primary care nurse practitioners of Kitchener, Waterloo,Wellesley,Woolwich, and Wilmot in all models of primary care
Status Update
The KW4 Health Link was officially endorsed and launched this spring.  A Business Plan for 1 year one-time funding to further develop the health link has been approved by the Waterloo Wellington LHIN and submitted to the Ministry of Health for approval.
September 2015 Health Link Newsletter ›
Questions?
If you have any questions, would like more information or would like to collaborate on this initiative,
please contact Jennifer Metzloff at jenn.metzloff@family-medicine.ca